Members, it's time to share in the profits!
Actions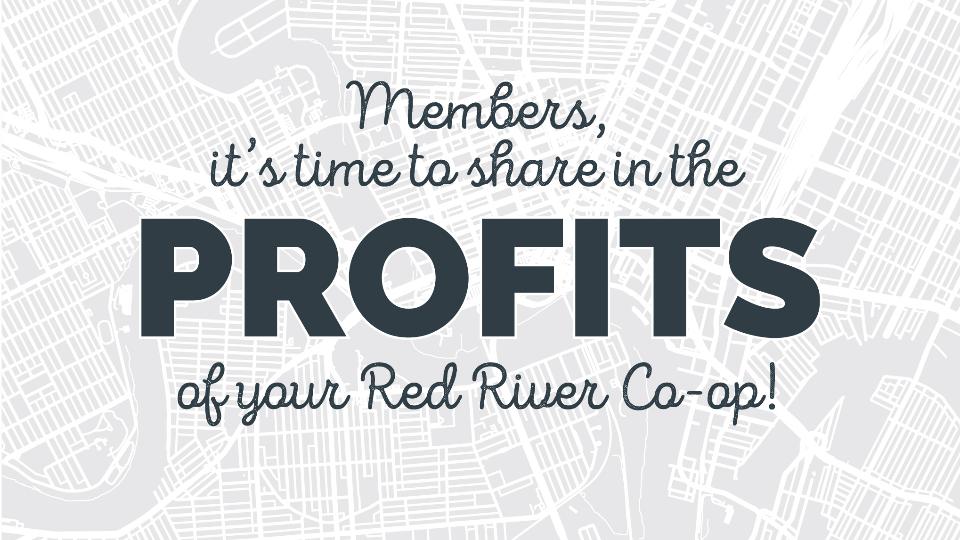 Members, it's time to share in the profits!
February 20, 2020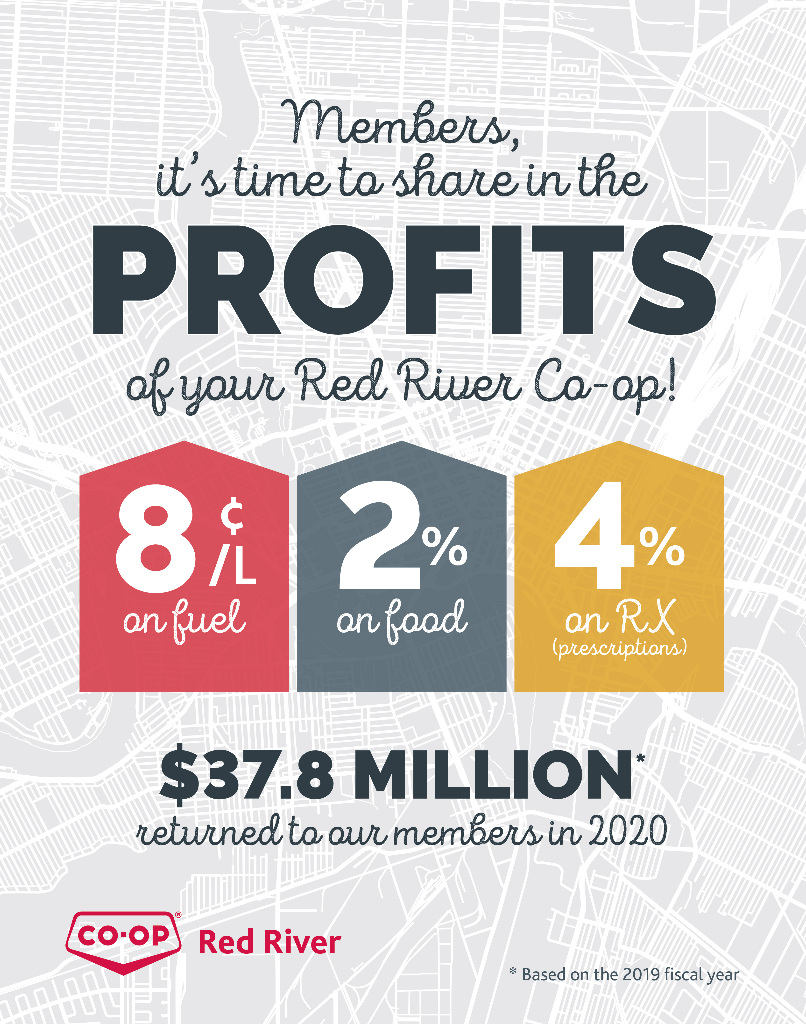 Get excited, cheques are in the mail!* We are excited to celebrate Red River Co-op's equity season with a $37.8 million return to you, our trusted and loyal members.
Your equity allocation is based on your purchases with Red River Co-op in the 2019 fiscal year. In your equity package that is coming with your cheque, you will find that our board of directors approved an allocation return of:
8 cents / litre on fuel purchases
2% on food purchases
4% on the full price of pharmacy prescriptions
Due to favourable market conditions in the energy sector and positive sales growth in pharmacy and at our food stores, we are excited to share our profits with you.
As a cooperative, we are a different kind of business and profit sharing is just one way we do things differently. Returning profits to our membership ensures that the money stays in the communities we serve to better the lives of our members and the communities in which they work, live and play. $33,692,751 in cash is being returned to our membership and the remainder of equity earned stays in the members' equity accounts with Red River Co-op.
Members over the age of 65 can apply to have 100% of their equity (less the initial $5 membership fee) repaid to them in cash. Once approved, they will receive their full annual allocation in cash each and every year.
Have questions about your equity package? Our member services team is here to help!
Phone:
(204) 272-8989
Outside
Winnipeg: 1 (844) 616-1447
Email:
memberservices@rrcoop.com

We are a business with a social conscience, and we give back to worthy local causes that matter to you, our members. Our
community relations program
supported more than 80 local charities and non-profits with $180,369 cash and in-kind donations. Additional 2019 community support highlights include a
$70,798 donation to The Children's Hospital Foundation of Manitoba
and $10,000 to
The Gimli Humane Society
through Red River Co-op's Fuel Good Day and the sale of Winnipeg Blue Bomber cups in September, a $61,400 donation to the Spence Neighbourhood Association from our Community Spaces program for the development of a community greenhouse, and
$12,755 donation to the Green Action Centre (and over 3 million plastic bags saved from the landfill)
through our reusable bag program. We also donated nearly 150,000 lbs of food to Winnipeg Harvest and nearly 3,500 lbs of food, 10,500 warm toques and more than 325 volunteer hours to the Siloam Mission.
Red River Co-op is a different kind of business and we think that's pretty cool. Thank you for your continued support of our fuel, food and pharmacy businesses. Because you choose to be a member of Red River Co-op, together we can continue to help our communities grow and be better places to live, work and play.
* You can expect your cheque in 7-10 business days.