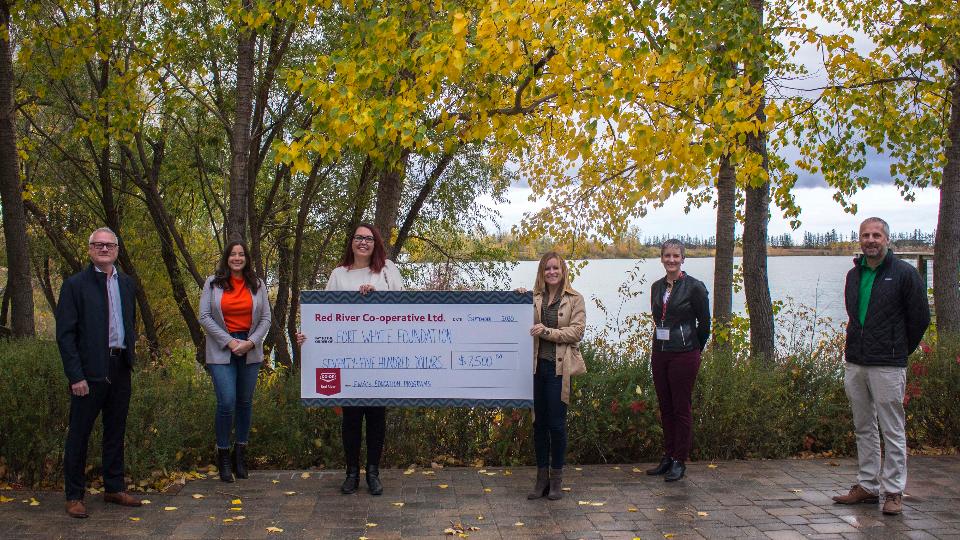 Community Relations
May 1, 2019
At Red River Co-op, we are guided by always trying to do things right. We aim to do the right thing for our members and customers, our employees, our communities and the environment.

Co-ops are built by - and for - the people they serve. We are a different kind of business. We are a co-operative that is owned by our members who live in the communities we do business and a co-operative that is committed to investing in those communities to make them better places for everyone.

The Community Investment Program strengthens the role we take in our neighbourhoods by focusing our donations to charities and non-profits that align with our mission and values.

Donation Requests & Guidelines

In today's world, appeals for support grow annually in number and variety. While recognizing the growing needs of our community, we recognize that we cannot support each group. Annually, our Community Investment Committee identifies key areas of giving dependent on the needs of our community and social and environmental issues.

All requests are reviewed by the Community Investment Committee at quarterly meetings. Please submit your donation request at least three months in advance of your event or activity. An organization may be a recipient one time in a twelve month period.
Please submit your donation request in advance of February 20, 2023. You will be notified of the status of your request mid-March.
Guidelines:
• Applicants must be a charity or non-profit and community organization.
• The organization must operate and serve within the general trading area of Red River Co-op (Winnipeg, Lorette, Oakbank, Headingley, Stonewall, Selkirk, Niverville, Gimli, Teulon, Ste. Agathe, Dryden, Kenora).
• Community level donations will have priority over national donations.
• Special considerations maybe be given to groups that adhere to co-operative principles.
The following is a list of groups and causes to which Red River considers inappropriate to donate to:
• Individual/self-interest. Exceptions may be made for youth education sponsored by Co-op entities.
• Religious organizations except those offering community services on a non-denominational basis.
• Private clubs or organizations - any organization involved in promoting issues or agendas that do not aligns with our co-operative's values.
• Requests for prizes supporting silent, rainbow or live auctions and raffles.
• Political groups.
• Gala dinners and golf tournament fundraising will be redirected to directly support the charities.
Limitations on giving:
Red River Co-op recognizes the vital and worthwhile role performed by the many charitable organizations in our community. However, due to limited financial resources, we will restrict our support to those groups who best match our objectives.
Submitting a request:
Gift Card Fundraising Program:
Red River Co-op also offers a gift card fundraising program for community groups and non-profits. Whether you are raising money to help a sports team, dance crew, charity or travel club, Red River Co-op is here to help!



2021 Non-Profits & Charities That Received Funding
163rd Winnipeg Scouting Group
1st Crestview Scout Group
Alzheimers Society of Manitoba
Anish Corporation
Archwood School
Assiniboine Memorial Curling Club
Assiniboine Park Conservancy
Better Business Bureau Education Foundation of MB
Big Brothers Big Sisters of Winnipeg
Bike Week Winnipeg
Bike Winnipeg
B'nai Brith of Canada Foundation
Bookmates Inc.
Boys & Girls Clubs of Winnipeg
Canada Royal Winnipeg Ballet
Canadian Mental Health Association
CancerCare Manitoba Foundation
CanU Canada
Cerebral Palsy Association of Manitoba
Children's Hospital Foundation
Club Té-Vert
Crohns and Colitis
Diabetes Canada
Earl Grey School
Fort Whyte Foundation
Gordon Howard Centre
Habitat for Humanity
IISD Experimental Lakes Area
Indigenous Languages of Manitoba
Inspire Outreach
Jocelyn Hutton Foundation
Kenora District Festival of the Arts
Kidney Foundation of Canada, Manitoba Branch
Lake Winnipeg Foundation
Le Cercle Molière Inc.
Leftovers Foundation


Made with Love
Manitoba Brain Injury Association
Manitoba Indigenous Cultural Education Centre Inc.
Manitoba Interfaith Immigration Council Inc.
Manitoba Naturalist Society
Manitoba Theatre for Young People
Movement Centre of Manitoba Inc.
MS Society of Manitoba
Never Alone Foundation
Niverville Cooperative Playgroup Inc.
North Point Douglas Women's Shelter
NorWest Co-op Community Food Centre
OMIS Hamper and Pantry Inc
One Trunk Theatre
Prairie Fire Press, Inc
Resource Assistance for Youth, Inc. (RaY)
Ronald McDonald House Charities Manitoba
Rossbrook House
Willow Place
Siloam Mission
Snowflake Place for Children and Youth
Southwest Teens at Risk (STAR)
Spence Neighborhood
Springfield Minor Baseball Associaition
St. Amant Foundation Inc
St. Boniface Hospital foundation
STARS MB
Starting Blocks Inc.
Stony Mountain Community Association
Triathlon Manitoba
Winnipeg Foundation Interest Fund
Heart & Stroke Foundation of Manitoba
Winnipeg Humane Society
Winnipeg International Writers Festival
Winnipeg Police Association-Cool 2Be Kind
Women's Health Research Foundation
Discover more: