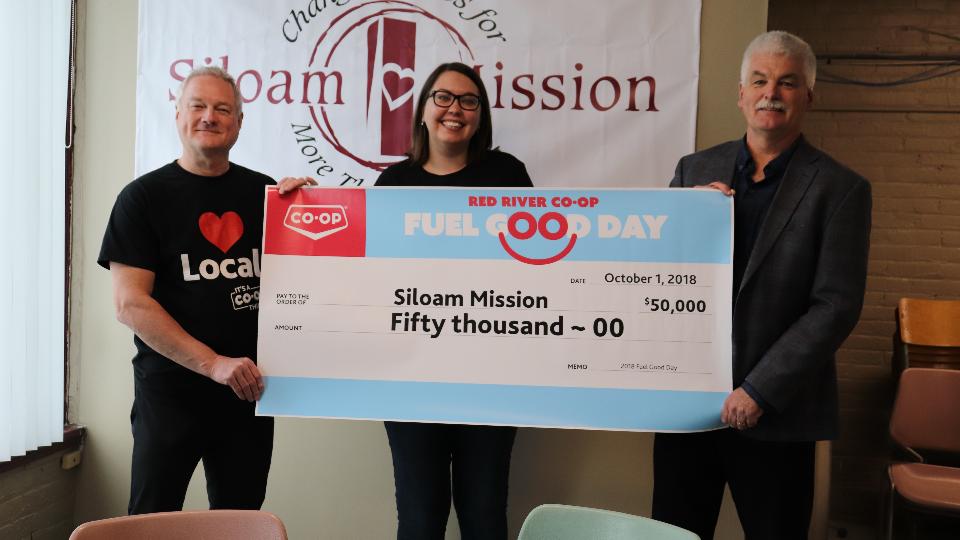 Community Relations
May 1, 2019
At Red River Co-op, we are guided by always trying to do things right. We aim to do the right thing for our customers, our employees, our communities and the environment.
Co-ops are built by and for the communities they serve. By partnering with Red River communities to help those in need, to reduce our environmental impact, to engage employees and to serve as leaders in the co-operative business model is a big part of what makes Co-op what it is!
Together, we are trying every day to do just a bit better than the day before.
We thank you for your support and for your own commitment to contributing to the betterment of Red River communities. Red River Co-op owes its success to the members of our community who purchase our products. Because our continued success depends on the strength of our community, we are committed to bettering the lives of our members and taking initiative in the communities we serve. This support is the foundation of our Community Relations program.
This program strengthens the role we take in the communities where we do business by focusing our giving into specific community sponsorships/donations that most closely reflect our corporate values and strategies.

Please review the Donation Guidelines below. If you would like to apply for a donation, requests are accepted through online submission only. Please find the online application here.
Here's a complete list of organizations the Community Relations program supported in 2018:
1. ALS Society
2. Archwood School
3. Arthritis Society
4. Assiniboine Memorial Curling Club
5. Assiniboine Park
6. Aurora Recover Centre (ARC)
7. Between the Pipes
8. Bike Week Winnipeg
9. Bookmates Inc.
10. Breast Cancer
11. Canadian Ced Network
12. Canadian Ringette Championships
13. Cerebral Palsy
14. Children's Hospital Foundation
15. Children's Rehabilitation Foundation
16. Children's Wish Foundation
17. Com-Span Inc.
18. Community Safety Net
19. Corydon Community Centre
20. Eastman Flames U14AA
21. Federation des Parents du Manitoba
22. Fort Garry Women's Resource Centre
23. Fort Rouge Curling Club
24. Hazelridge Sportsplex-Beausejour
25. Helping Hands for Manitobans with Cancer
26. Henderson Hwy Legion
27. Humane Society -Paws in Motion
28. IISD Experimental Lakes Area
29. Inspire Outreach
30. Interlake AAA Bantam Hockey club
31. John Howard Society
32. Joy Smith Foundation
33. Kenora Canada Day Committee - 2018
34. Kenora District Festival of the Arts
35. Lake Winnipeg Foundation
36. Le Cercle Moliere
37. Lockport River's Edge Run for NF
38. Lung Association
39. Manitoba Basset Hound Rescue
40. Manitoba Brain Injury Association
41. Manitoba Chamber Orchestra
42. Manitoba Museum
43. Manitoba Schizophrenia Society
44. Manitoba SwimAbility
45. Muscular Dystrophy Canada
46. OHEYS Autism
47. Parkinson's
48. Prairie Wildlife Rehabilitation Cen
49. PTE
50. Rainbow Trout Music Festival
51. Red River Exhibition Foundation - Scholarships
52. Rossbrook House
53. Siloam Mission
54. SISTARS
55. Spirit of Hope
56. Springfield Chickendaze-Oakbank
57. St. Amant Foundation Inc
58. Stonewall Quarry Days
59. Stony Mountain Community Association
60. Sunshine House
61. Teulon and Area Canada Day Committee
62. Teulon Ride in Rally
63. Triathlon Manitoba
64. University Winnipeg Co-op Scholarships
65. Weston School
66. Winnipeg Children's Hospital
67. Winnipeg Fire Paramedic Service Half Marathon
68. Winnipeg Foundation Interest Fund
69. Winnipeg Fringe Festival
70. Winnipeg International Writers Festival
71. Winnipeg Parade Committee
72. Winnipeg South Minor Baseball Association
73. Youville Clinic
Discover more: