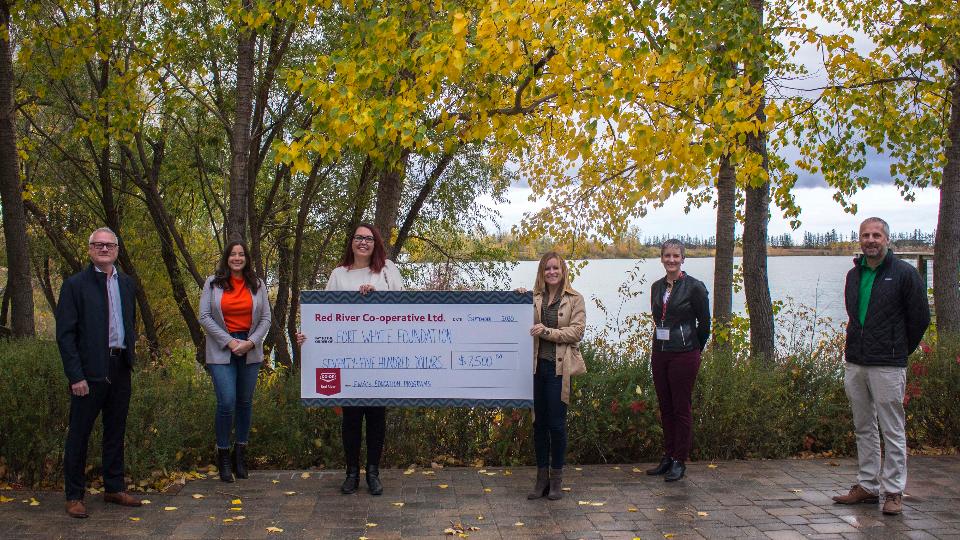 Community Relations
May 1, 2019
At Red River Co-op, we are guided by always trying to do things right. We aim to do the right thing for our members and customers, our employees, our communities and the environment.

Co-ops are built by - and for - the people they serve. We are a different kind of business. We are a co-operative that is owned by our members who live in the communities we do business and a co-operative that is committed to investing in those communities to make them better places for everyone.

The Community Investment Program strengthens the role we take in our neighbourhoods by focusing our donations to charities and non-profits that align with our mission and values.

Donation Requests & Guidelines

In today's world, appeals for support grow annually in number and variety. While recognizing the growing needs of our community, we recognize that we cannot support each group. Annually, our Community Investment Committee identifies key areas of giving dependent on the needs of our community and social and environmental issues.

All requests are reviewed by the Community Relations Committee at quarterly meetings. Please submit your donation request at least three months in advance of your event or activity. An organization may be a recipient one time in a twelve month period.
Please submit your donation request between Tuesday, Nov. 21, 2023, and Monday, Feb. 5, 2024. All applications will be reviewed at once by the Committee, and all applicants will be notified of the status of their request the first week of April 2024.

Guidelines:
• Applicants must be a charity or non-profit and community organization.
• The organization must operate and serve within the general trading area of Red River Co-op (Winnipeg, Lorette, Oakbank, Headingley, Stonewall, Selkirk, Niverville, Gimli, Teulon, Ste. Agathe, Dryden, Kenora).
• Community level donations will have priority over national donations.
• Special considerations maybe be given to groups that adhere to co-operative principles.
The following is a list of groups and causes to which Red River considers inappropriate to donate to:
• Individual/self-interest. Exceptions may be made for youth education sponsored by Co-op entities.
• Religious organizations except those offering community services on a non-denominational basis.
• Private clubs or organizations - any organization involved in promoting issues or agendas that do not aligns with our co-operative's values.
• Requests for prizes supporting silent, rainbow or live auctions and raffles.
• Political groups.
• Gala dinners and golf tournament fundraising will be redirected to directly support the charities.
Limitations on giving:
Red River Co-op recognizes the vital and worthwhile role performed by the many charitable organizations in our community. However, due to limited financial resources, we will restrict our support to those groups who best match our objectives.
Submitting a request:
Gift Card Fundraising Program:
Red River Co-op also offers a gift card fundraising program for community groups and non-profits. Whether you are raising money to help a sports team, dance crew, charity or travel club, Red River Co-op is here to help!



2022 Non-Profits & Charities That Received Donations
Alzheimer's Society of Manitoba
Association of Community Living Selkirk Branch
Bear Clan Patrol
Bibliotheque Tache Library
Bike Week Winnipeg
Bravestone Centre Inc.
Canadian Conservation Corps
Canadian Mental Health Association of Manitoba
CancerCare Manitoba Foundation
Candlelighters Childhood Cancer Support Group
Children's Hospital Foundation
Community Helpers Unite
Community Safety Net
Cystic Fibrosis Canada
D.A.S.C.H.
Diabetes Canada
Feed the Furbabies
Fireweed Food Co-op Veggie Van
Fort Garry Women's Resource Centre
Fort Whyte
Future Hope Inc.
Green Action Centre
Harvest Manitoba
Heart & Stroke
Hospital Activity Book for Children
IIS-ELA
Indigenous Languages of Manitoba
Inspire Community Reach
Interlake Women's Resource Centre
Jocelyn House Hospice
Klinic Community Health
Leftovers Foundation
Lincoln Middle School Parent Council
Local Investment Toward Employment
Manito Ahbee Festival
Manitoba Blind Sports Association
Manitoba Chamber Orchestra
Manitoba Conservatory of Music and Arts
Manitoba Museum
Manitoba Naturalist Society

Manitoba Tipi Mitawa First Nation Home Ownership Program
Movement Manitoba
Muscular Dystrophy Canada
Myeloma Canada
Never Alone Foundation
Newcomer Sport Academy
Niverville Service to Seniors
North Point Douglas
Norwest Co-op Community Health
Prairie Theatre Exchange
Pride Festival
Rainbow Resource Centre
Rainbow Stage
Roblin Park Community Centre
Ronald Mcdonald House Charities
Rossbrook House
Royal Aviation Museum
Safe Housing and Directed Empowerment (S.H.A.D.E.)
Selkirk Community Club
Siloam Mission
St. Amant Centre
St. Andrew's St. Clements Agricultural
Stony Mountain Association
The Assiniboine Memorial Curling Club
The Grace of Jules Project
Toba Centre for Children & Youth
Together for a Strong World Inc.
Tree Riverview
Triathlon Manitoba
Ukrainian Canadian Congress
Urban Stables Equine (The Horse Connection Inc.)
Villa Rosa Inc.
West Central Women's Resource Centre
Winnipeg Fringe Theatre Festival
Winnipeg Humane Society
Winnipeg Inner City Mission Inc.
Winnipeg International Writer's Festival
Wolseley Resident's Association
Women's Health Clinic
Women's Health Research Foundation of Canada Inc.

Discover more: