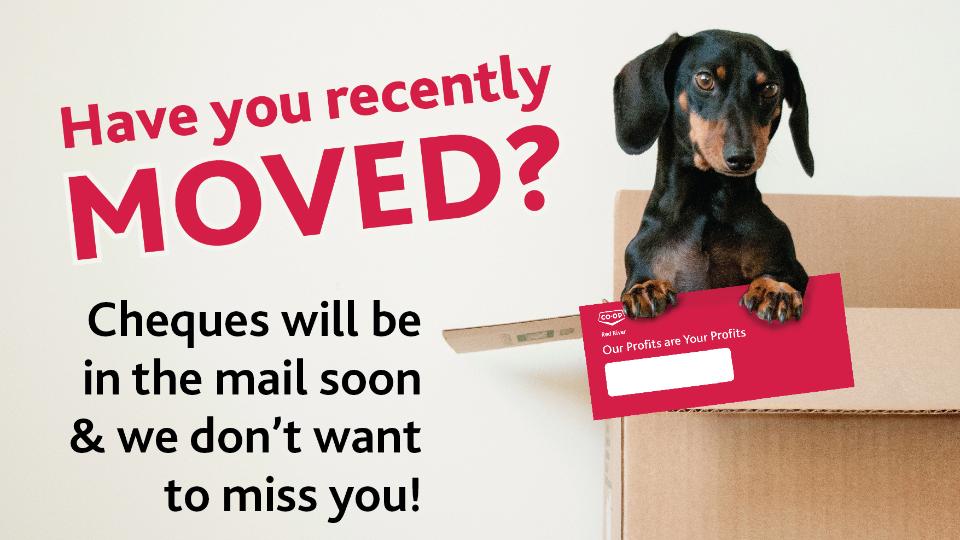 Change of Address Campaign
December 12, 2018
With only a few short months until member cheques hit the mail, we want to make sure we don't miss you! If you've moved or have changed addresses within the last year make sure you update your address before January 4, 2018.
Updating your address is easy and can be done in the following ways:
1. On our website
Visit: https://members.rrcoop.com/ for our member log in. If you have an existing profile, simply log in and update your address through the "Change of Address" shortcut on the side panel. If you have not made a profile yet, proceed to creating one with your CURRENT address. You do not need to enter your old address and then go back and update it.
2. By phone
Simply give our Member Services team a call in Winnipeg at 1.204.272.8989, or outside Winnipeg at 1.844.616.1447.
3. In person
Visit any Red River Co-op location for a "Change of Address Form".
It's as simple as that! Now all you have to do is eagerly await that red envelope to arrive end of February 2019. Thank you for being a Red River Co-op member.
4. On the Manitoba Address Change Website
Simply visit https://web22.gov.mb.ca/ManitobaAddressChange/index.html to make sure to select Red River Co-op