Bring Your Own Grocery Bags Starting on Earth Day!
Actions
Bring Your Own Grocery Bags Starting on Earth Day!
March 24, 2022
April 22 will be a big day for Red River Co-op, as we are taking the step to eliminate single use plastic bags from our food store and gas bar check stands. We began this journey back in 2018 when we started encouraging reuse by charging 5 cents per plastic grocery bag. In the first year, we reduced the disposable bags used in our stores by 54% compared to the previous year, diverting over three million bags from the landfill in just one year.
Why are we doing this now? Over the last year, we sold over 2.2 million bags. That is a lot of non-biodegradable bags that ended up in landfill, on our streets and in our water systems. Removing single use plastics from our checkout stands was always the plan and we have sourced appropriate alternatives and developed processes to make the change at all nine of our food stores.
We encourage all our members and customers to remember their reusable bags from home! We have reusable totes and bag options for sale in-store, including a reusable cloth bag for 25 cents per bag available at the tills in case you forget to bring reusable bags on a visit.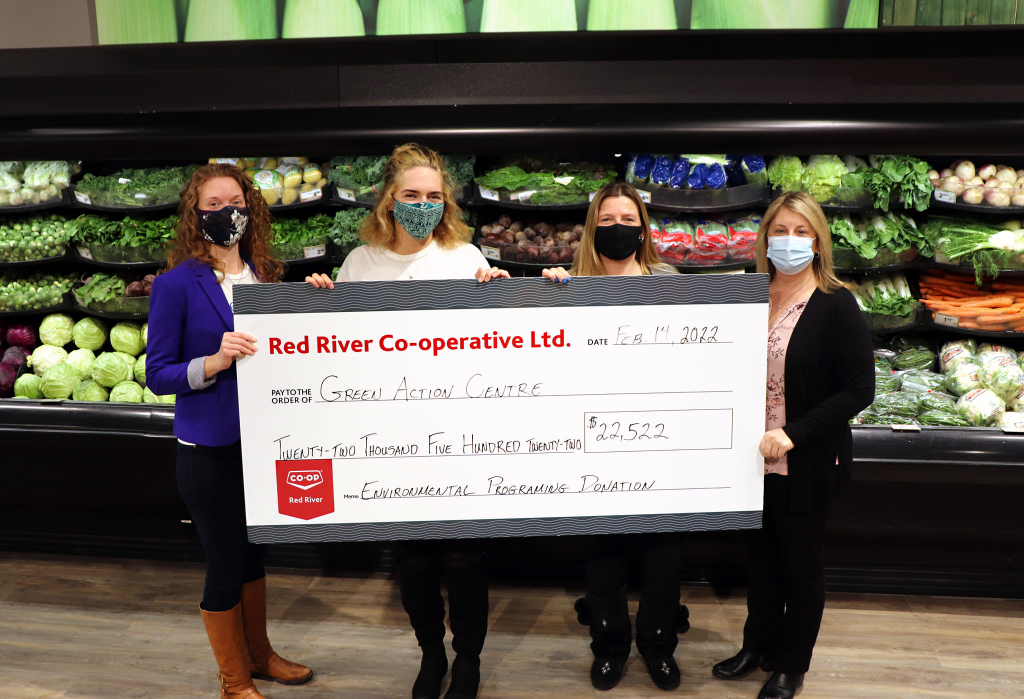 "Based on our experience over the past 35+ years, we believe that the biggest focus surrounding the issue of plastic waste needs to be reduction," says Colleen Ans, Living Green Living Well Coordinator with Green Action Centre. "Our current and growing reliance on plastics is not sustainable, as very little of the disposable plastic products used are recycled, despite years of recycling efforts and programs. We fully support the elimination of single-use plastic bags and a switch to reusables. The focus must remain on reduction, not simply 'better disposables.' Every product ever made has a carbon footprint, so it is important to use the products we purchase for as long as possible to account for their environmental impact."
When we started charging for bags in 2018, we pledged to donate the profit from each sale to local green living non-profit, Green Action Centre to support their food waste reduction and composting educational programming. Over the past three years, we've donated $50,277 to them. We are so proud of the partnership that has formed and we have supported the work Green Action Centre does and they have supported our environmental endeavours and our business. Stay tuned for more developments in our partnership this year!
It's time to start practicing bringing reusable bags from home when you shop at our food stores and gas bars leading up to Earth Day on April 22! Thank you for your continued support.
FAQs
Q: Why not switch to paper bags as an eco-friendly alternative?
A: Paper bags are recyclable, but paper is very resource-heavy to produce. Manufacturing a paper bag takes about four times as much energy as it takes to produce a plastic bag, plus use harmful chemicals and in production. Also, paper fibers become shorter and weaker each time the recycling process takes place, there is a limit to how many times paper can be recycled.
Studies have shown that, for a paper bag to neutralize its environmental impact compared to plastic, it would have to be used anywhere from three to 43 times. Since paper bags are the least durable of all the bagging options, it is unlikely that a person would get enough use out of any one bag to even-out the environmental impact.
As our friends at Green Action Centre say, it's better to focus on reduction as opposed to "better" disposables.
Q: I use the grocery bags I get at your stores to dispose of my pet's waste, and now I'll have to buy more plastic bags, so what is the point?
A: Taking a single-use plastic bag and turning it into a "double"-use plastic bag is still not an ideal option because the bag still ends up in the landfill and it takes hundreds of years to decompose.
There are some creative solutions, such as repurposing frozen fruit or vegetable bags, cereal bags or bread bags. Corn-based compostable bags are also an option.
Q: Can we use reusable produce bags from home?
A: You can if they are Co-op brand! Our Co-op reusable produce bags have been made specifically to work with our weight scales at our checkouts. You can find these on sale at our food stores.
Q: I see other single-use plastics and disposables at your food stores. What will you be doing next?
A: Federated Co-operatives Ltd. has signed on to the Canadian Plastics Pact (CPP) on behalf of the Co-operative Retailing System, which includes Red River Co-op. By signing the Pact, the CRS is committing to four targets by 2025:
• Define problematic or unnecessary plastic packaging and create a strategy to eliminate 
• 100% of plastic packaging to be reusable, recyclable or compostable 
• 50% of packaging is recycled or composted 
• 30% recycled content across all packaging 
While these targets may seem ambitious, we are not starting from scratch. In 2019, a cross-commodity working group was formed to source alternative packaging options for the CRS.