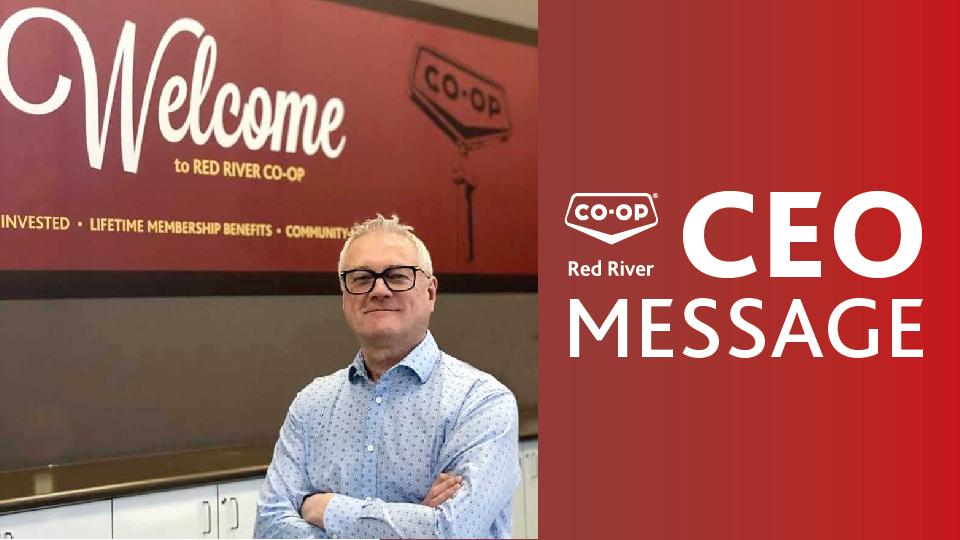 CEO Message
March 27, 2020
Hello members and customers,

Living in this time with COVID-19, the new realities we face as a community and as a business are changing daily. The time we find ourselves in right now is unprecedented and was unforeseen. Our community is self-isolating, facing fear and uncertainties, and making difficult decisions to adapt in this rapidly evolving situation. You and your families are truly in our hearts and on our minds every day. We are committed to being there for you through offering the essential services of food, pharmacy and fuel. From the bottom of our hearts, we thank you for being with us on this journey.

I am also so thankful for our Red River Co-op team. The exceptional level of teamwork exhibited by our staff has allowed us to make and implement rapid changes, allowing our essential services to remain available for you with health and safety as the highest priority. Every level of our business has changed, and our whole industry has as well. We are quickly evolving, heeding governmental advice and implementing best practices to make the best decisions possible for our people: our employees, our members and customers; and for our business. We are working hard every day to balance the needs of our community, the needs of our employees and ensuring the long-term sustainability of our business. We are committed to being there for you through this pandemic and in the years to come.

As we navigate operating our business through this pandemic, health and safety is at the core of everything we do. We have increased our already rigorous cleaning tactics and schedules at our gas bars, food stores and pharmacies. We've implemented many changes at our locations to reduce risk, including a social distancing strategy. We are doing our best to educate people and make sure they are adhering to the recommended 6 feet of physical space through posters, appropriately spaced floor decals, frequent PA announcements, and our staff are politely reminding people when they see issues. We are also in the process of getting Plexiglas barriers installed at the tils for the health and safety of our employees and customers. Please, it is also the community's responsibility to practice physical distancing, and if you are uncomfortable with someone being too close to you, you are free to kindly ask them to step back.

We are in this together as a community. Red River Co-op has a responsibility to keep our community safe, and the community also has a major role to play in keeping everyone safe and healthy. That includes frequently washing your hands with soap and water for at least 20 seconds and keeping a physical distance of at least 6 feet from others. The government has stated those people most vulnerable in our community should be staying home completely. If you are a senior, have a compromised immune system or are pregnant, this is a time to lean on friends, family and neighbours to pick up groceries and pharmacy needs for you while they are out purchasing necessities for their own families. We have recognized that this is not an option for everyone and implemented early shopping hours on Wednesdays and Fridays to reduce risk for those members and customers.

For the safety of all during this pandemic, the government has informed the public to stay home. People are rightfully abiding by this instruction and the effect has been a sharp decline in fuel consumption. The drastically reduced need for fuel has forced us to make some very tough decisions. We explored every alternative avenue, but had to make the heartbreaking decision to lay off some of our gas bar workers. We are not in a position to continue to pay employees wages when there isn't work for them to do. If we knew that this pandemic was a short-term reality, our decision might have been different. But we do not have a timeline on how long this will last. I understand that this is disappointing to hear, and we very much are with you in that disappointment. Rest assured, we are staying in touch with these people and when the world gets back to normal our first calls will be to them to offer employment. We are committed to being here as an employer and an essential business for the community throughout this pandemic, and after.

With the depressed need for fuel, we have had to face many challenges. To effectively manage the needs of the community, manage staff and prioritize sanitization, we have temporarily adjusted our operating hours to 8:00AM to 8:00PM daily.
Duties and realities for staff at our gas bars have changed. For the health and safety of our team members, we have temporarily ceased offering full-service. Having full-service open puts our staff at the pumps in contact with many customers, daily. We have shifted duties for staff with a focus on sanitization and helping customers. They are frequently sanitizing touch-points including pump handles and pay points. If you need help pumping gas, they are there to help. While sanitization is happening every few minutes, they will also happily sanitize a surface for you by request. For the safety and comfort of our customers and members, you may use gloves or the available paper towel when using the pumps and pin pads. Our frequently sanitized washrooms remain open and you are welcome to wash your hands inside.

We recognize that the duties and responsibilities of our food store and pharmacy staff have also been affected by this pandemic but, in contrast with our fuel sites, with a drastic surge in demand. An internal program has been put in place that recognizes their additional duties during the increased and unprecedented demand of their jobs during this pandemic. We have chosen to not make the details of this internal program public in consideration of others who may not be working or facing employment uncertainty at this time as a result of the COVID-19 pandemic. Rest assured, the full details have been shared and fully discussed with the employees affected. We understand that customers and members are eager to know if the friendly and helpful Red River Co-op employees they engage with in our stores are being adequately compensated during this unprecedented demand for service. The plan in place is fair and feedback has been positive. We consider the details of the program personal business between our employees and us as their employer, and we thank you for understanding.

Red River Co-op is a different kind of business and unlike competitors in our market. We operate differently - we share profits, annually, with our over 312,000 members. 2019 was a good year, but 2020 has been off to a rocky start and we still face unknown repercussions of COVID-19. We have had a number of challenges so far this year that have impacted all of our business lines. The food business is competitive and, for the moment, we are a seeing a spike in sales. At the same time, we are seeing a drastic decline in fuel sales. This pandemic leaves all of us in a position of uncertainty.

We are trying to do what is fair and equitable to all employees in our business, while keeping our doors open and our business sustainable in the long-term. That was, and is, our promise to our members and customers. Will we make mistakes? Sure we will. Will every decision be the right call? Maybe not. But we will do everything in our power to make the best decisions possible.

Thank you for your patience and understanding, and for being with us through this time of uncertainty. We are here with you, and for you. Please know that you and your families are on our minds through this difficult time.
Stay safe,
Doug Wiebe
CEO, Red River Co-op