Farm Fresh & Manitoba Grown
Actions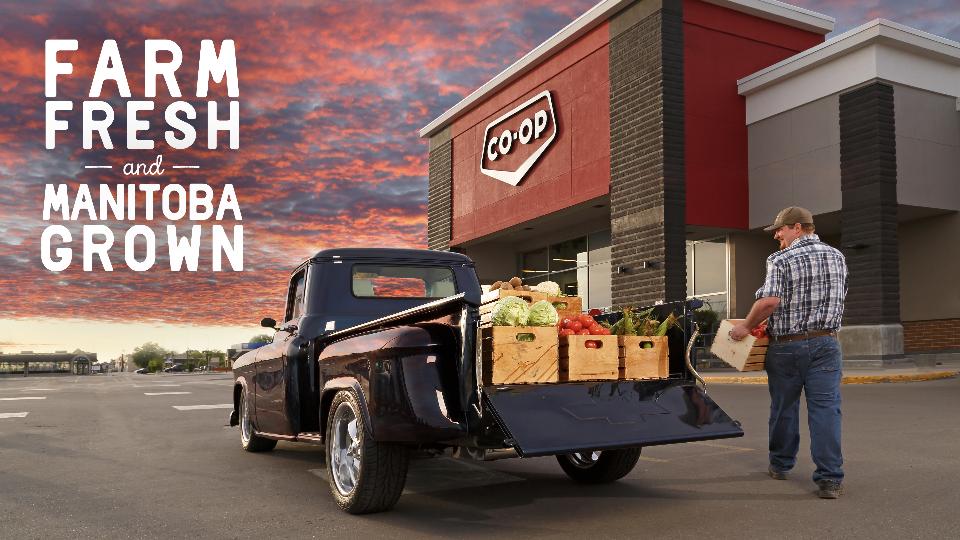 Farm Fresh & Manitoba Grown
July 29, 2019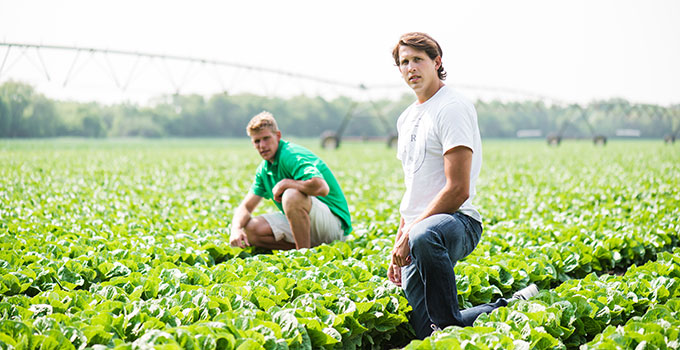 At Red River Co-op we love local! I mean, we really love local. To us, local means our neighbours, our friends and family members, and the farmers in our province who grow our food. To celebrate, this summer we are providing the best, most local produce grown right in our own backyards by Manitoba farmers.
Visit any Red River Co-op food store and look for "Manitoba Grown" signage telling you exactly where those delicious fruits and veggies were grown.
Some of the fantastic local farmers we work with:
Greenland Gardens —Blumenort, MB
Beefsteak tomatoes, cocktail tomatoes, cherry tomatoes and cucumbers
If you see a gold sticker, know you're in store for a juicy, delicious tomato! Greenland Gardens is situated just Northwest of Blumenort, MB. The produce tomatoes and cucumbers almost year-round in over 23,000 square feet of greenhouse space. Run by Murray and Lisa Warkentin, Greenland Garden's story began in 1874 when Murray's great-grandparents moved to Manitoba from Russia alongside other Mennonite families. Today they grow 14 varieties of tomatoes as well as English cucumbers, many of which you can find right at your local Red River Co-op.

Itzkeriver Farm — Saint Francois Xavier, MB
Broccoli, Cabbage, Cauliflower, Celery, Leaf lettuce, Romaine Lettuce, Cucumber, Sweet Corn
For over 60 years, Itzkeriver family owned and operated farm been producing quality hard to find varieties of vegetables in Saint Francois Xavier, MB. Originally established by Johnnes Itzke, today Itzkeriver Farm boosts approximately 1,800 acres (1000 of which are harvestable), and is still run by the second and third generations of the family. They see the importance of sustainable farming practices and apply them where they can.
Learn more about Itzkeriver Farms here.

Schriemers — Otterburne, MB
A wide variety of produce
Fresh from Otterburne, MB, Schriemers has been Manitoba favourite for over 60 years. Growing a wide range of fruits and vegetables, their motto is "Feel Good About It." It's a mission of assurance of quality and a constant reminder of their main business focus, which is measuring success on the satisfaction of our customers.
Learn more about Schrimers here.

Mayfair Farm — Portage La Prairie, MB
A wide variety of vegetables and strawberries
Established in 1940 just outside Portage La Prairie, MB, Mayfair family owned farm specializes in vegetables, fruit and pulses. They are a food loving family with a desire to share that passion by providing produce that is local, fresh and delicious. They have learned many things over the past 77 years but something that remains consistent is that by taking care of the land, the land in return will take care of them and generations to come.
Fresh Forage — Winnipeg, MB
Microgreens
Fresh Forage is a local microgreen and vegetable producer utilizing grow rooms and a vertical hydroponic systems to grow year round in the heart of Winnipeg. They carry Winnipeg's largest variety of microgreens, grasses, and edible flowers. Their seed is sourced from here in Canada, and certified organic, non-gmo where possible. Started by Winnipegger Joel Weber and backed with his farming and engineering background, Fresh Forage provides Winnipeg with a wide range of tasty microgreens.

Loveday Mushrooms — Winnipeg, MB
Mushrooms
A Manitoba staple, Loveday mushrooms are a pioneer of Canada's thriving mushroom industry. Located in Winnipeg, MB and now in their fourth generation of family ownership, they continue to cultivate mushrooms in the same way as their founder, but the business has changed. Today, they pick more mushroom's before 9:00am as they did for the whole of 1932!

We also work with the following fantastic Manitoba farms: Chinese Universal — Winnipeg, MB (A variety of produce), Starlite Farms —Starbuck, MB (Squash, corn, baby potatoes, bunch beets, bunch carrot, dill, kale, green onions), Grey Owl Farms — MB (Pickling cucumbers, potatoes, squash).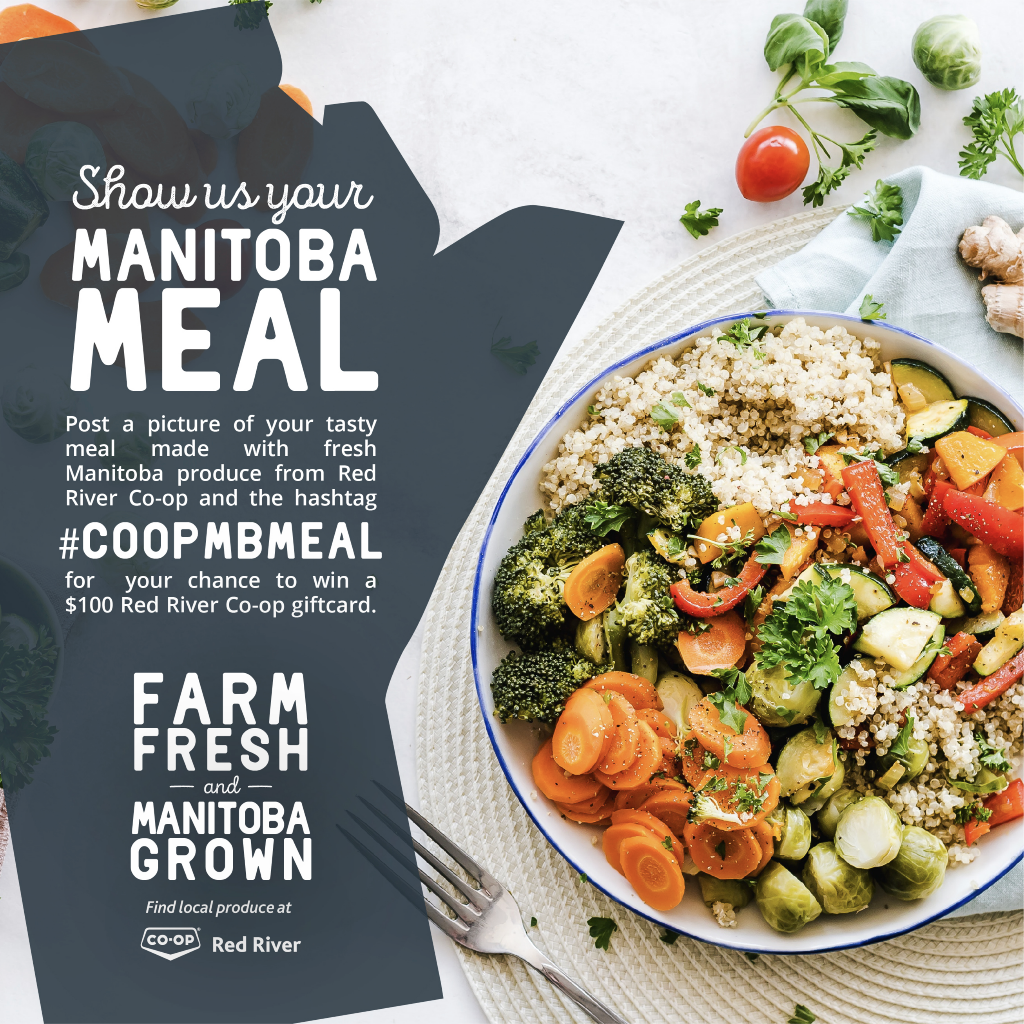 From now until August 30/2019 enter to win a $100 gift card by posting a photo of your tasty meal made with fresh, MB produce from Red River Co-op. Be sure to use the hashtag #CoopMBMeal so we can find your entry.