Kids' Holiday Cookbook in support of CHFM
Actions
Kids' Holiday Cookbook in support of CHFM
December 9, 2022
Kids Helping Kids: Red River Co-op Kid's Cookbook Raises Money for the Children's Hospital
On Saturday, December 10, 2022, Red River Co-op is launching the sale of their Kid's Holiday Favourites Cookbook in support of the Children's Hospital at all nine food store locations. Children's Hospital volunteers and Champion Kids will be at select food stores on Saturday, December 10, 2022, from 12:00 - 3:00 PM to help sell the cookbooks. All proceeds from the sales will be donated to the Child Life Program to help make the hospital a little less scary for the 130,000 sick and injured kids and their families who depend on the hospital each year. The cookbooks will be sold for a minimum donation of $5 each until supplies last.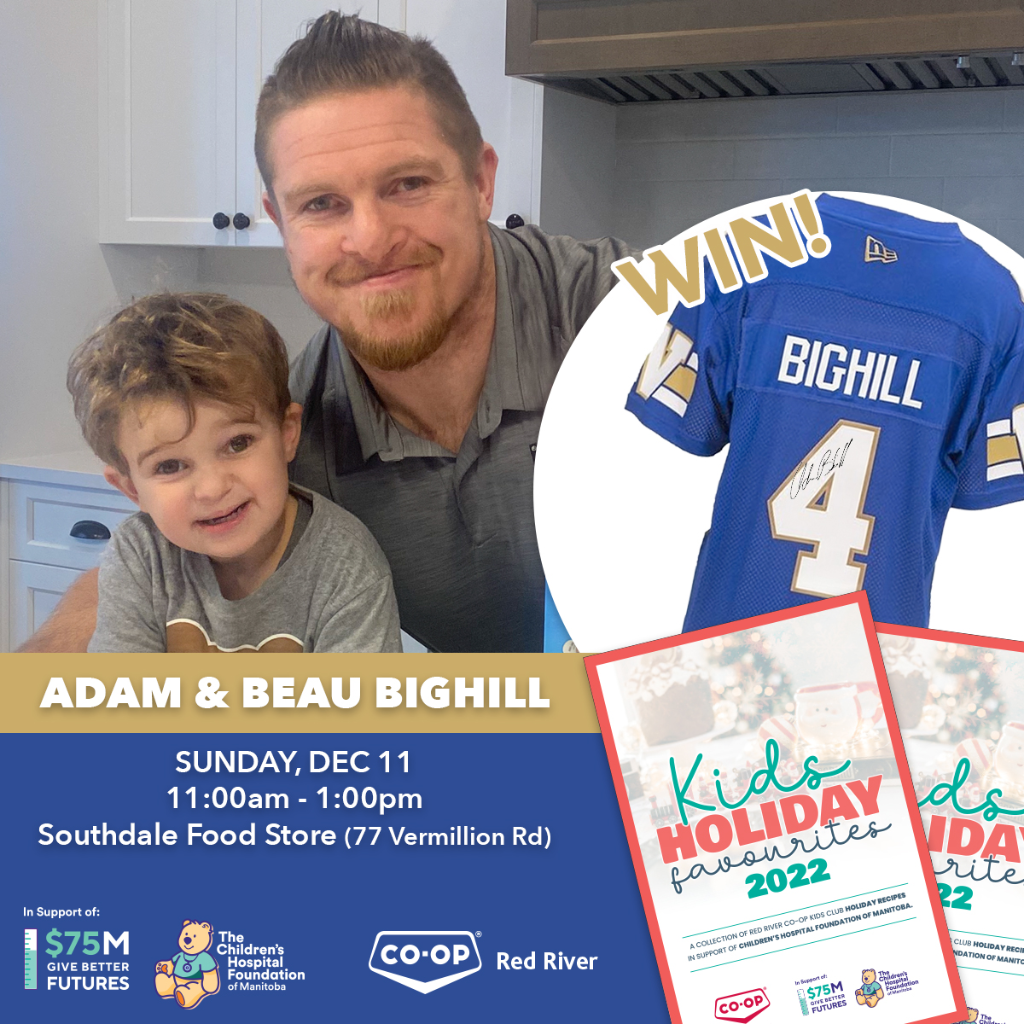 The launch also includes an exciting appearance by Winnipeg Blue Bomber Adam Bighill and his three-year-old son Beau Bighill (a Children's Hospital Champion Child) at Red River Co-op's Southdale food store (77 Vermillion Road) on Sunday, December 11, 2022, from 11:00 AM – 1:00 PM. In addition, customers who purchase the cookbooks between December 10 and 20, 2022, will have a chance to win a signed Adam Bighill Winnipeg Blue Bomber jersey.

"The Children's Hospital Foundation has supported our family and countless other families throughout Manitoba. When you support Children's Hospital, you ensure they have the skills and equipment necessary to care for our children. We are so excited to be a part of the cookbooks initiative to help further support the child life program," said Adam Bighill of the Winnipeg Blue Bombers.

"We are so pleased with the support of Red River Co-op and have enjoyed working closely with them to develop the cookbook, which features several of the foundation family children who have needed care at children's hospital," says Stefano Grande, President and CEO of Children's Hospital Foundation of Manitoba. "We hope everyone will enjoy the holiday favourites the kids have shared and know that every purchase of the recipes book will help support sick and injured kids in your community."

"The Child Life program is an important program that provides kids and their families fun and purpose through a difficult time. Red River Co-op is proud to continue supporting a program that helps bring comfort to children and families," said Doug Wiebe, CEO of Red River Co-op.