Winnipeg Blue Bomber Buddy & Family Packs
Actions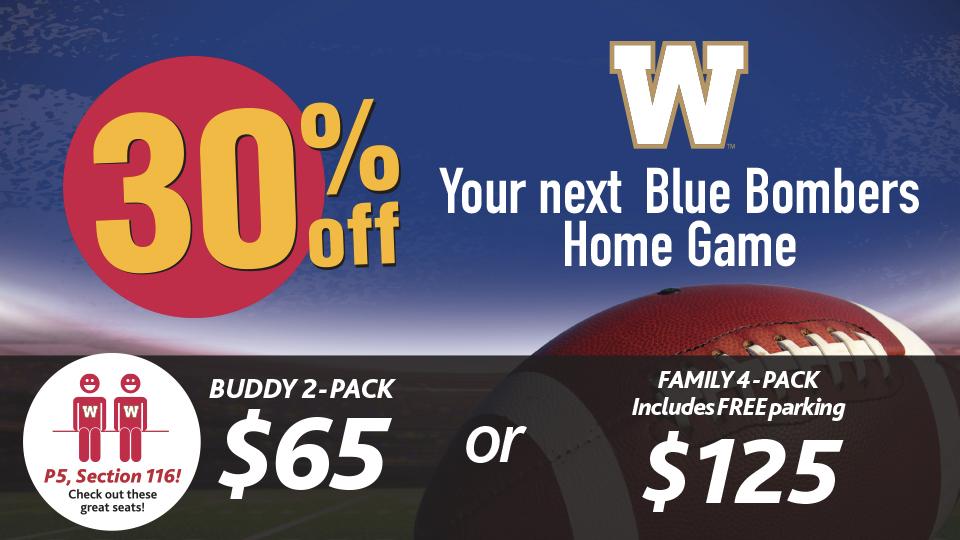 Winnipeg Blue Bomber Buddy & Family Packs
July 18, 2019
Did you know that you can save 30% on Winnipeg Blue Bomber tickets when you purchase vouchers at Red River Co-op gas bars and food stores*? We know enjoying summer is a top priority for Manitobans, and we want to help you make the most of it. What better way then to take a friend or your family to a football game?


Buddy 2-pack vouchers are just $65
Family 4-pack vouchers with FREE parking are only $125

Seats in P5, Section 116
Simply stop by a participating Red River Co-op gas bars or food store, purchase your voucher and redeemed online at bluebombers.com/tickets/coop/.
*Vouchers are not available at our gas bars in Dryden, Gimli, Kenora, Niverville or Ste. Agathe, or our food store in Gimli.

Vouchers are not valid for Banjo Bowl or playoff games. Game selection subject to seating availability. Please redeem early. No substitutions. All sales final.
See you at the game!
Discover more: