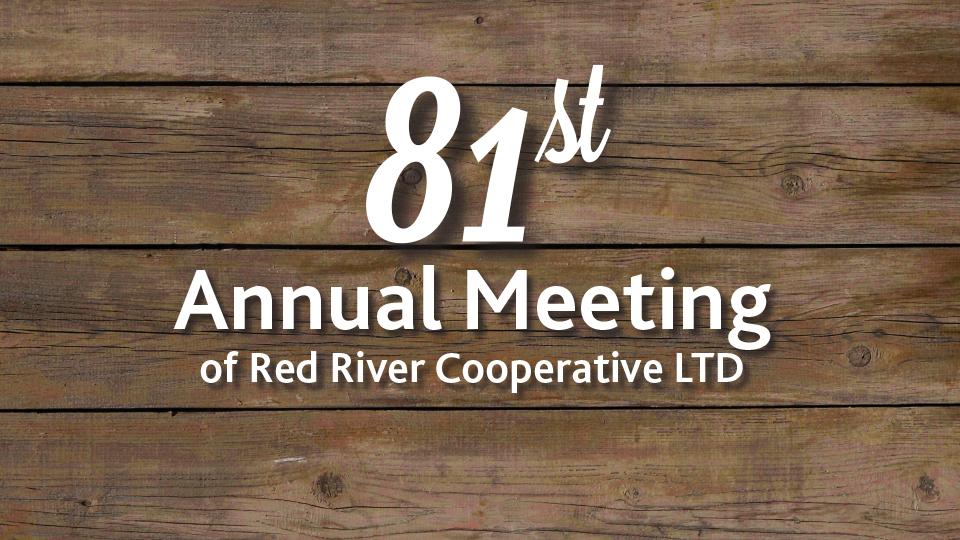 81st Annual Meeting
February 28, 2019
The 81st Annual General Meeting of Red River Cooperative will be held Thursday, April 11, 2019 at the Canad Inns Polo Park, 1405 St. Matthew's Ave, Winnipeg MB. All members are welcome and encouraged to attend.
Thursday, April 11, 2019
Registration: 5:30 - 6:45 p.m.
Meeting: 7:00 - 9:00 p.m.
_____________________________________
The following is a list of the proposed highlights with the full version of the stream-lined by-laws at the bottom of this page. Amendment of the by-laws will be voted upon by the members in attendance at the Annual General Meeting.
New, stream-lined By-laws - Highlights of changes
The Governance Committee has published certain amendments to the by-laws to simplify the governing materials of the Cooperative. The following represent only highlights of the changes, and the actual by-laws should be referred to for further detail.
• The "Trading Area" has been changed from 65 km to 100 km, which is relevant for purposes of determining if a member has moved outside of the trading area and therefore has the right to close out the membership.
• It is now clear that the by-laws may be amended by the Directors, but any such amendment must be ratified by the members or it will not have effect.
• Directors must be members of the Cooperative and must have purchased goods or services in the most recent year of $250 to be eligible to be nominated as a director
• Certain changes were made to clarify that directors may, by vote at a special meeting called for the purpose, remove a director from office.
• The Cooperative must now transfer to its reserve funds in each financial year a minimum of 5% of its surplus in that financial year, and the reserves of the Cooperative must accumulate to a minimum of 20% of the total assets of the Cooperative. These changes simply reflect what has been happening over the last several years.
• The most significant change to the by-laws is within Part Four of the By-laws. The changes, if approved, will permit advance ballots to be cast by an electronic process described in the voting instructions. This will permit the Cooperative to receive ballots by mail or email in advance of the Annual Meeting. As a consequence, if the by-laws are approved, we may no longer have ballot boxes at each of the gas bars, food stores and administration office.