$25K Community Spaces Donation Awarded to Oak Hammock Marsh
Actions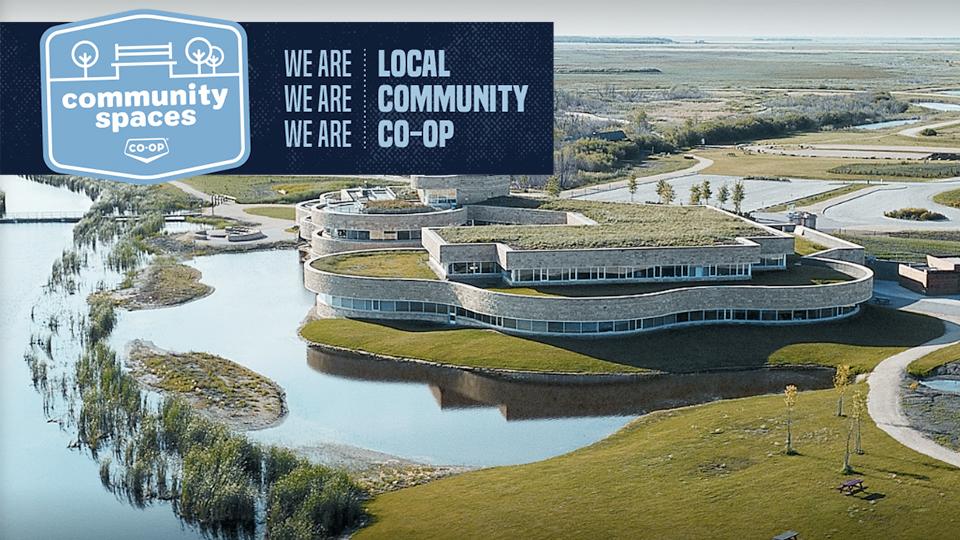 $25K Community Spaces Donation Awarded to Oak Hammock Marsh
June 14, 2021
The Co-op Community Spaces program was developed to help protect and beautify spaces across Western Canada to improve the places we meet, play, learn and share!
Enjoying the lands and the Harry J. Enns Wetland Discovery Centre at Oak Hammock Marsh has been a family-favourite destination for decades. It's a place to learn about Manitoba's natural flora and fauna or simply enjoy the beautiful scenery. Red River Co-op is thrilled to announce a Community Spaces donation of $25,000 to Oak Hammock Marsh to make urban agriculture improvements to the green roof and create pollinator gardens on the Discovery Centre.
The existing pollinator garden had been taken over by weedy species. It has been redeveloped to make it more accessible with new paving stones and wooden planter boxes. Soon, wildflowers and native plants will be planted and interpretive signage installed to engage and educate visitors. Participants of several educational programs will now be able to visit the garden as part of their learning. One such program is Plants & People, where school-aged children learn the significance of the marsh and prairie plants and how they were used by Indigenous people. One of the most important functions of the Discovery Centre is allowing community members to receive experiential, environmental education.
The next phase is to hire a contractor to assess the health of the prairie plants and execute a controlled burn of the Discovery Centre's green roof. The green roof consists of grasses and flowers native to the surrounding landscape and acts as a natural insulation layer, reducing heating and cooling costs. Weeds have taken over the green roof and a controlled burn will allow for the native plants to re-grow.
By restoring the prairie on the roof and adding pollinator gardens, prairie habitat will be added adjacent to the wetland, thus providing both food and shelter for many species. Educating public of all ages and encouraging them to look at an ecosystem approach for species preservation will help ensure these critical habitats are protected into the future. Red River Co-op is excited to contribute to the restoration of these critical areas at Oak Hammock Marsh to help ensure the sustainability of the wetlands through maintenance and education.
Learn more about the Harry J. Enns Wetland Discovery Centre at Oak Hammock Marsh here: https://www.oakhammockmarsh.ca/