$70,000 donated to the Selkirk & District Curling Club
Actions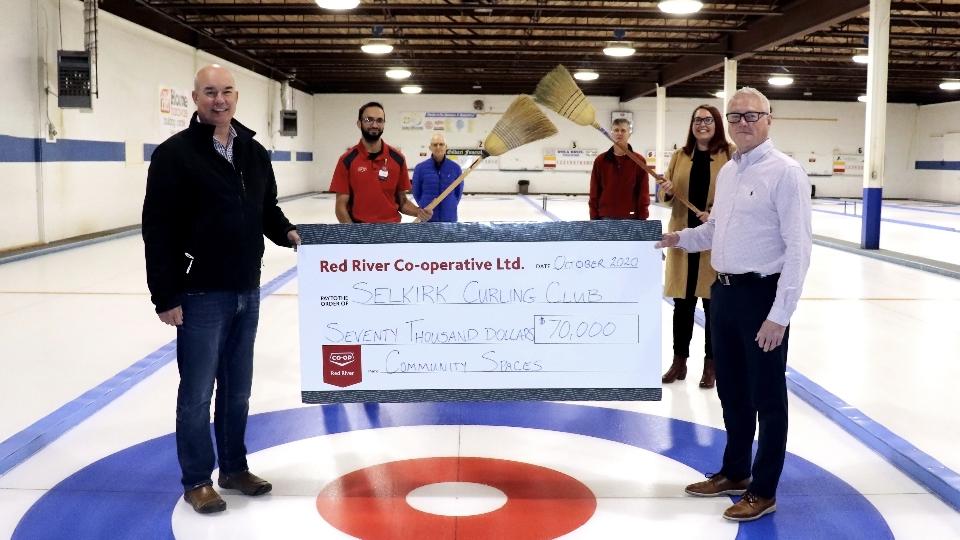 $70,000 donated to the Selkirk & District Curling Club
October 29, 2020
We are helping to 'sweep' up Manitoba's Community Spaces and have donated $70,000 to the Selkirk and District Curling Club through Co-op's granting program '
Community Spaces
' – a program that helps to improve community health and well-being by building places for Western Canadians to come together and build social connections.
The Selkirk and District Curling Club, open to the community since 1962, has been well-known for its volunteer base that has hosted both provincial championships and international curling events. The club has long been a place where residents can meet, play, learn and share the love of the sport.
"Our curling club is not only there for current curlers, but it's also a drop-in for seniors and a facility to introduce the sport to new Canadians and school kids," said Reid Henderson, Selkirk and District Curling Club board member.
Recently, the club has been facing a new challenge. The building's roof system is failing, and in order to keep curlers on the ice, the leaking roof needs to be fixed to prevent further damage. Red River Co-op's donation will go towards the repair and enhancement the club's roof, which will also significantly reduce the heating costs and reduce the facility's carbon footprint.
"The community hub that is the Selkirk and District Curling Rink is a shining example of people coming together to create opportunities for activity, sport and connection," said Doug Wiebe, CEO of Red River Co-op. "We are thrilled to be able to support the roof renovation project that also has environmentally sustainable long-term benefits."
Pictured: Reid Henderson - Special Projects Chair, Selkirk Curling Club; Amol Sooch - Grocery Manager, Red River Co-op Food Store in Selkirk; Tom Matheson – President, Selkirk & District Curling Club; Kelly Gowerluk – House Chair, Selkirk & District Curling Club; Kelly Romas –Director of Marketing, Red River Co-op; and Doug Wiebe – CEO, Red River Co-op.