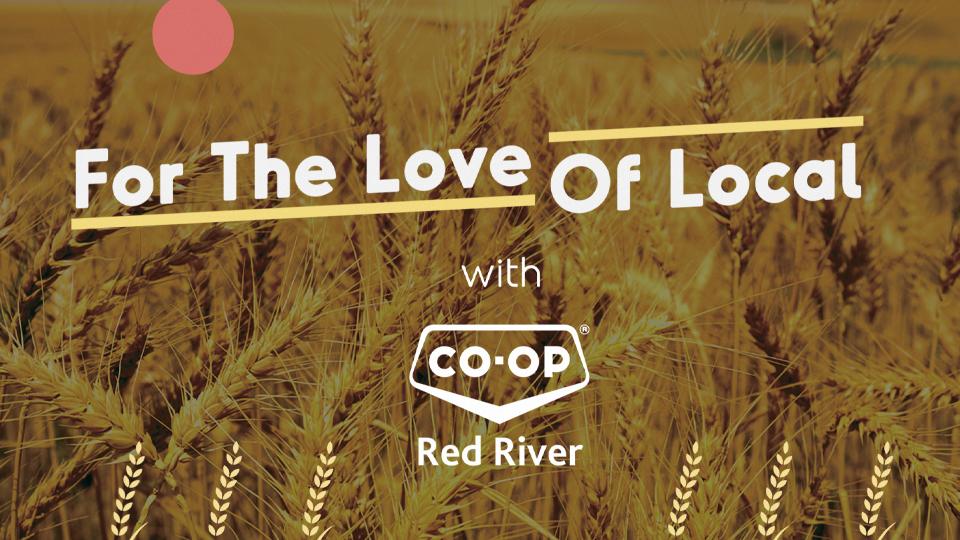 For the Love of Local
September 23, 2019
At Red River Co-op we LOVE local! We are so excited to share the stories of our local vendors with our new For the Love of Local web series. A huge thank you to the wonderful crew at
We Heart Wpg
for making this a reality.
Stay tuned for a new video released every 2 weeks!
Tamarack Farms
The first in our For the Love of Local series featuring the stories of our local vendors.
Tamarack Farms is nestled in the rolling hills and forests of Riding Mountain near Erickson, Manitoba. They raise a diverse range of plants and animals, including quinoa and other grains, pastured heritage pigs, native grasses and forbs, and hay for local cattle feed.
Fitting their farming activities into the natural and biodiverse landscape is very important to them, so is to maintain local elk populations, aspen parkland forests, and beaver ponds and creeks. In 2017, one quarter of their farm gained certified organic status. Their quinoa and other grains are certified organic as of the fall of 2018.
Mr Biltong
Based in Winnipeg, Manitoba, Mr. Biltong Beef Jerky Company was created to meet the growing demand for locally-produced premium meat snacks. Mr. Biltong provides a tastier, more tender, and healthier alternative to conventional beef jerky.
Their initial focus is on the Winnipeg market, but they hope to expand their availability in the future. This will help them work towards their ultimate goal: Sharing the love of meat with the world!
Fresh Forage
Fresh Forage is a local microgreen and vegetable producer utilizing grow rooms and a vertical hydroponic systems to grow year round in the heart of Winnipeg. They carry Winnipeg's largest variety of microgreens, grasses, and edible flowers. Their seed is sourced from here in Canada, and certified organic, non-gmo where possible. Growing inside allows them to control every part of the plants growing experience from the type of soil, water, light, and air it receives and absorbs. This significantly limits the risk of mold, disease, and insects.
Rawnata
In 2003 they started selling whole grain breads and baking at The St. Norbert Farmers Market as a way to share their passion for how whole grains had made a difference in their lives.
About five years into the whole-grain baking business venture, they noticed that more and more people were asking for gluten-free products. They wanted to offer our customers something out of the ordinary, yet healthy and delicious.
They first introduced flax crackers to their customers in 2009. Because they appealed to such a wide range of health-conscious people, they decided that it was time to create a similar product that was a little on the sweeter side, yet still full of raw seeds. They wanted to feature a locally produced seed quickly becoming recognized as a superfood – hemp hearts. They experimented and through much trial and error, created the Chocolate Hemp Snacker – a raw, crunchy energy bar made primarily from organic hemp hearts.
This delicious snack won the grand prize in The 2011 Great Manitoba Food Fight, enabling them to begin the process of larger scale commercialization.
Boreal Wildcraft
Boreal Wildcraft cares deeply for what the Forest has to offer. That's why they have adopted the mandate to sustainably harvest the bounty of the Boreal Forest alongside Northern Canadians, the original harvesters, the first to cherish and respect the land. The Boreal Wildcraft Tea Company works cooperatively with local wildcrafters, handpicking and processing special herbs and berries in an ethical and sustainable manner to minimize our carbon footprint. Trained and approved harvesters meet our wildcrafting standards not only to ensure they protect this delicate ecosystem but also to support and encourage the harmony that has been established between the land and its people. The result? Exquisite, earth-conscious, custom-blended herbal infusions with a distinctly Canadian flavour - something you can drink and feel good about.
https://www.borealwildcraft.com/
Tasty Heats Foods
Tasty Heats Foods makes hot sauces using authentic Sri Lankan recipe with top quality fresh hot peppers. They are proud to say that Tasty Heat's hot sauces are the Worlds 1st Sri Lankan Hot Sauces, Proudly manufacturing in Winnipeg Canada.
Cheers! Stay Spicy! Taste the Heat!