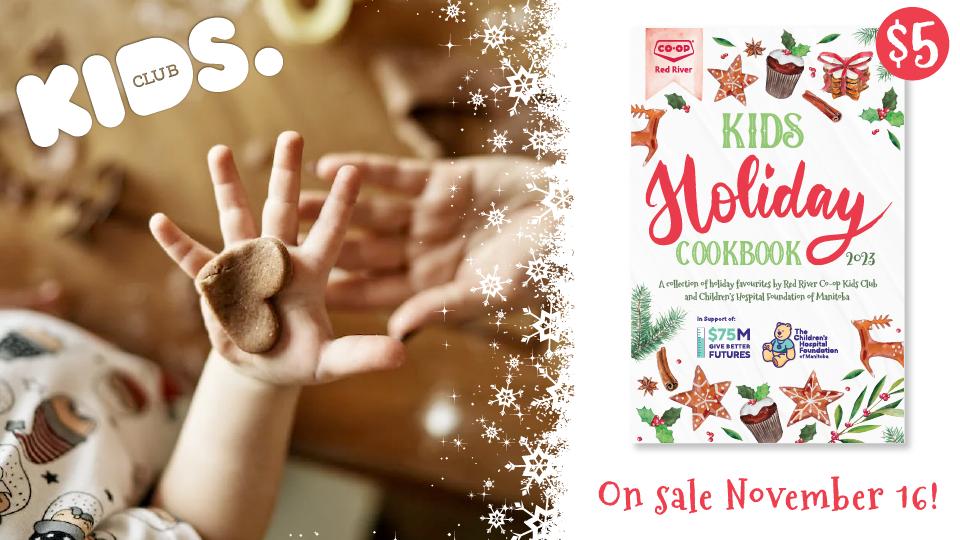 Kids Club Holiday Cookbook
August 18, 2023
Purchase our 2023 Holiday Cookbook at all Red River Co-op Food Store locations- for just $5 each! One hundred percent of sales will be donated to Children's Hospital Foundation of Manitoba to raise money for their Child Life program, because spending the holidays in the hospital is tough, and we want to do everything we can to provide comfort to the 140,000 kids who need HSC each year.

Over 30 recipes are included, lovingly compiled by both the Foundation Families of CHFM and Red River Co-op Kids Club members. On pages throughout, you will find the unique stories of children and their families recounting their stays at Children's Hospital. For many, they continue to need care.
"We're so grateful for Red River Co-op's ongoing support and have loved working together to create the Kids' Holiday Cookbook, which features many Foundation Families who rely on Children's Hospital," says Stefano Grande, President and CEO of Children's Hospital Foundation of Manitoba. "We hope everyone who brings home a cookbook knows they're making a difference for kids in their community who need treatment and care."

"Red River Co-op is proud to partner with Children's Hospital to support the important work they do everyday, bringing comfort to children and families who use their critical services in our community", says Craig Gilpin, CEO of Red River Co-op.

We hope you enjoy this labor of love, and perhaps pick up a few extra copies as stocking stuffers for your loved ones. Cookbooks will remain available for purchase until quantities run out!
Locations to purchase at:
FOOD STORES
Grant Park – 1120 Grant Ave.
Southdale – 77 Vermillion Rd.
Seasons – 755 Sterling Lyon Pkwy
St. Norbert – 3477 Pembina Hwy
St. Vital – 850 Dakota St.
Lorette – 11 Laramee Dr.
Gimli – 55 Centre St.
Selkirk – 335 Main St.
Stonewall – 420 Main St.
PHARMACIES
Main Street – 1425 Main St.
Niverville – 103 102 2nd Avenue S
Submit Your Recipe for 2024
(SUBMISSIONS CLOSED for the 2023 Holiday Cookbook. All new submissions will be considered for the next edition.)


Calling all young bakers!

Send us your most favourite holiday recipe, the one that makes your holidays special. Recipes may be included in the next Holiday Cookbook and proceeds of each cookbook sold during the holiday season will be donated to CHFM!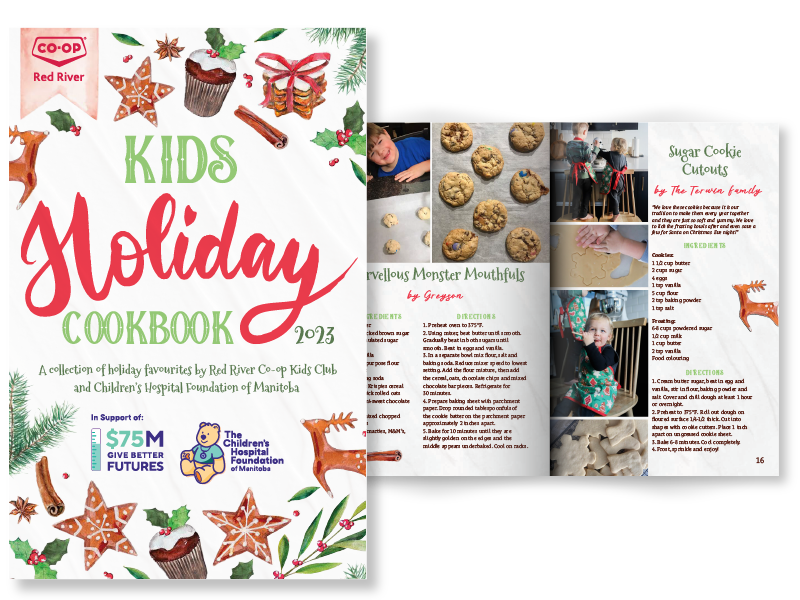 Your 2-3 Photos can be emailed to: kidsclub@rrcoop.com
(Please include the recipe name and child's name in your email.)
What is the Child Life program? Being a kid can be tough. Being a kid in hospital can be even tougher. Programs like Child Life bring joy and distraction, and make a hospital stay a little more comfortable for the 130,000 kids who need HSC Winnipeg Children's Hospital each year. This program provides music therapy, CHTV, the library program, toy purchases and the playroom, allowing kids to just be kids.
Looking to join Kids Club? Click here to join, or visit any one of our bakery counters at our food stores.