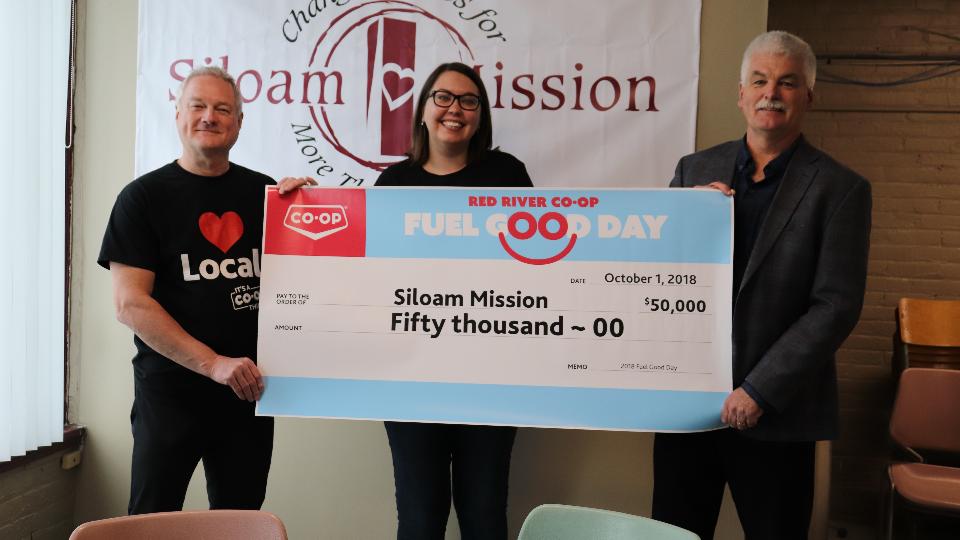 Community Relations
May 1, 2019
Update: April 7, 2020
Due to the impacts associated with the coronavirus and the limited number of employees working out of our office we are not accepting additional donation requests at this time. We will reinstate the donation request process once we return to normal operations after the coronavirus pandemic is over. We apologize for any inconvenience this may cause in the interim.
We remain committed to supporting the community and are evaluating the best ways to move forward through this pandemic.
The Program
At Red River Co-op, we are guided by always trying to do things right. We aim to do the right thing for our customers, our employees, our communities and the environment.
Co-ops are built by and for the communities they serve. By partnering with Red River communities to help those in need, to reduce our environmental impact, to engage employees and to serve as leaders in the co-operative business model is a big part of what makes Co-op what it is!
Together, we are trying every day to do just a bit better than the day before.
We thank you for your support and for your own commitment to contributing to the betterment of Red River communities. Red River Co-op owes its success to the members of our community who purchase our products. Because our continued success depends on the strength of our community, we are committed to bettering the lives of our members and taking initiative in the communities we serve. This support is the foundation of our Community Relations program.
This program strengthens the role we take in the communities where we do business by focusing our giving into specific community sponsorships/donations that most closely reflect our corporate values and strategies.

Please review the Donation Guidelines below. If you would like to apply for a donation, requests are accepted through online submission only. Please find the online application here.
Here's a complete list of organizations the Community Relations program supported in 2019:
1st Crestview Scout Group
A & O Support Services for Older Adults
ALS Society
Alzheimer's Society of Manitoba
Aquatic Synchro Club
Archwood School
Assiniboine Memorial Curling Club
Assiniboine Park Conservancy
Bear Clan Inc
Behavioural Health Foundation
Bike Dump
Bike Week Winnipeg
Bookmates Inc.
Bridgwater Trails Neighbourhood Assn.
Canada Royal Winnipeg Ballet
Canadian Institute of Reading Recovery
Canadian Sports Centre
Cancer Care Foundation
CancerCare Manitoba Foundation
Cerebral Palsy
Children's Rehabilitation Foundation
Children's Wish Foundation
Conseil jeunesse provincial
Corydon Community Centre
Crohn's and Colitis Canada Ltd.
Dakota Community Centre-Dakota Scholarship Program
Eastman Flames U14AA
Fit from Within-Women's Health Clinic
Fort Garry Women's Resource Centre
Green Action Centre
Habitat for Humanity
IISD Experimental Lakes Area
Indigenous Languages of Manitoba
Jenna's Toonies for Tulips-Quest to End Parkinson's
Jocelyn Hutton Foundation
Kenora District Festival of the Arts
Kidney Foundation of Canada
Knowles Centre
Lakewood School
Leukemia and Lymphoma Society of Manitoba
Manitoba Brain Injury Association
Manitoba Chamber Orchestra
Manitoba Museum
Manitoba Schizophrenia Society
MS Society of Manitoba
Myeloma Canada
Nature Manitoba
North Point Douglas Women's Centre
NorWest Co-op Community Food Centre
OHEYS Autism
Pembina Trails Voices
Prairie Children's Centre
Prairie Theatre Exchange
Prairie Wildlife Rehabilitation Centre
Pride Winnipeg Festival Inc.
Rainbow Trout Music Festival
Red River Exhibition Foundation - Cooperative Scholarships
Roblin Park Community Centre
Rossbrook House
Royal Winnipeg Ballet
Movember- Running Room
Share the Magic Book Program
Siloam Mission
South West District Palliative Care Inc.
Springfield Chickendaze-Oakbank
St. Amant Foundation Inc
Stonewall Kinsmen Club
Stonewall Quarry Days
Stony Mountain Community Association
Sturgeon Heights Community Centre
Teulon and Area Canada Day Committee
Teulon Ride in Rally
Theatre by the River
Triathlon Manitoba
University Winnipeg - Cooperative Scholarships
West Broadway Youth Outreach
Winnipeg Foundation Interest Fund
Winnipeg Fringe Festival
Winnipeg Humane Society
Winnipeg International Writers Festival
Winnipeg Police Association-Cool 2be Kind
Women's Health Research Foundation

Discover more: